In this post: One of my favorite ways to welcome friends and family into our home is to surprise them with a pretty table setting. This is especially true during the Holidays. Here's how to set the table for Christmas in 7 easy steps!
*This post was sponsored by Decors Veronneau. All opinions are, as always, our own. For our full disclosure policy click here.
---
Setting a pretty table for visiting family and friends (and even just the five of us sometimes) is one of my favorite ways to welcome people into our home and shower blessings of love on them. This is especially true during the holidays. Here's how to set the table for Christmas in seven easy steps.
Decors Veronneau has all the essentials (and more!) for Christmas decor and shipping is free with internet orders over $100! They have a super easy and quick ordering process. Plus, Decors Veronneau specializes in artificial plants & flowers for everyday decorating too!
How To Set the Table For Christmas in 7 Easy Steps
It's actually easier than you think to create a pretty tablescape. Especially when it's broken down into an easy-to-follow step-by-step process that you can actually repeat every time you set the table, with some minor adjustments.
Here's how I create tablescapes at my house:
1. Clear and clean the table
Obviously, you need to start with a clean slate. Remove any existing centerpieces, salt and pepper shakers, placemats, or whatever has piled up on the table over time. No judgments here, our table is covered in stuff daily!
Next, you want to wipe down the table. This is one of those things that seems like it's a no-brainer. But I have to admit, I've forgotten once or twice to wipe the table after I cleared everything off, only to get the table half set and realize that there are still crumbs and sticky fingerprints scattered around. Save yourself some time and wipe down the table as soon as you've cleared it!
2. Lay a base for your centerpiece
Centerpieces are the lovely focal point of your table, but they need something to ground them. Sometimes that can be as simple as a plain runner or tablecloth. But I like to mix it up a bit.
For this tablescape, I layered cream burlap mesh underneath both faux fur ribbon, and wool ribbon. This gave the table a wintery feel and some extra cozy texture.
3. Create your centerpiece
Centerpieces can be made of any number of things; candles, flowers, greenery, or a combination of those. For this table setting, I placed Decors Veronneau's Festive Wood Arrangement in the center. And then because our table is on the large size (and I love a full, statement centerpiece), I tucked individual sprays, branches and magnolia leaves on either side of the arrangement.
4. Fill out the centerpiece
Just the arrangement and a few extra things, would have made a fine centerpiece. But I wanted just a wee bit more interest and festive holiday spirit. So, I also added a couple of faux deer antlers I already had and two metal bell ornaments too. You can tuck candlesticks in between the greenery or add more berry picks or whatever you like to fill out that centerpiece!
5. Layer each place setting
I find that place settings are best layered too.
I like to start with a charger. My favorites are heavily textured or uniquely shaped ones that just peek out from under a lovely dinner plate. You could also begin layering each spot with a placemat instead of a charger. It just depends on your preference and what you have on hand.
After I look after the dishes that will be needed for the meal (a dinner plate for sure, sometimes a salad plate or bowl too) and a folded napkin, I like to…
6. Add a special touch
This can be anything from personalized ornaments to a couple of regular ornaments set (red snowflake ornament found here, ski ornament found here) with a fun Christmas place card holder atop the folded napkin! It's those little touches that make a big difference.
7. Don't forget the rest of the dining room
Of course, you can't set a pretty table and forget the rest of the dining room!
On the back of each fabric dining chair, I've pinned a lovely little wreath for a little holiday fun. (The pin is tucked into the cording on the top of each chair, so it's out of the way.)
I also like to add a chunky cozy blanket and a woven basket somewhere in the room to warm the space up. In this case, those appear "tossed" on a chair and holding the skinny Christmas tree we already had.
And of course, I decorated the side table too.
Normally, this dresser lives in our living room. But to make room for the Christmas tree there, we had to play a little musical furniture, like we do every year. To pretty it up, I placed my wooden cake stand in the center. On top of that, I placed a full greenery and berry wreath and then set the gorgeous candle holder with fir and berries in the center of the wreath. It all fits so perfectly together!
And that's how you decorate a table and dining room for Christmas in 7 easy steps!
Watch the How to Set a Christmas Table Video
For more Holiday table decorating ideas, and how to set a Christmas table at your house, visit my blog friends too:

Rooms FOR Rent | Modern Glam | Home Made Lovely | My Sweet Savannah

Maison De Cinq | Almafied | Pine & Prospect Home | Craftberry Bush

Making Home Base | Sincerely, Marie Designs | The Happy Housie

Zevy Joy | Amber Tysl | Nick + Alicia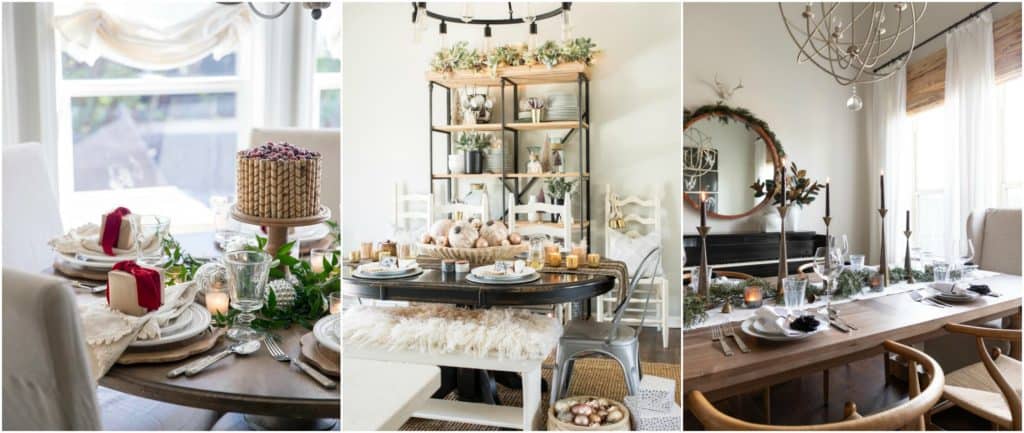 Ella Claire & Co. | House by Hoff | Crazy Wonderful
Other pieces around the room from Decor Veronneau:
Potted Christmas tree
Cedar swag with berries (in living room on fireplace mantel)
Do you have any go to methods for how the set the table for Christmas?